DBS today launched the 'Adopt-a-Hawker Centre' pilot programme that taps on group buys and better online discoverability of hawkers to support and safeguard the livelihoods of those impacted by the Covid-19 situation. For a start, DBS has 'adopted' Tanjong Pagar Plaza Market and Food Centre, with more than 50 stallholders participating in the initiative. DBS will expand the programme to include more hawker centres in the coming weeks.
Under this initiative, which is in support of efforts by SG Together Alliance for Action (AfA) — Online Ordering for Hawkers, DBS is partnering grassroots leaders to:
Bolster hawkers' earnings by organising more group buys, purchasing meals and drinks from the hawkers every week, and distributing the meal packs to frontliners, families-in-need and other beneficiaries such as charities and migrant workers;
Help hawkers widen their catchment of customers by making their stalls and food more searchable online through social media and DBS platforms including DBS PayLah!;
Explore new ways to equip hawkers with digital tools or know-how to digitalise their businesses.
With more weekly group buys and better online discoverability, the 'Adopt-a-Hawker Centre' initiative is expected to grow the hawkers' monthly earnings by at least 10 per cent.
Shee Tse Koon, Singapore Country Head, DBS, said: "Singapore's hawker culture is a source of pride for Singaporeans and an integral part of our daily lives as generations of hawkers have provided us with a wide and affordable array of local food. This difficult period requires the collective action of the corporate and public sector, and community, to do what we can to ease the burden on hawkers, even as dining-in progressively resumes and Singapore re-opens. With the 'Adopt-a-Hawker Centre' initiative, we want to play a key role in building on ground-up efforts, leveraging our wide customer base as well as digital leadership to help boost hawkers' earnings and enable them to better overcome this pandemic."
Many hawkers who had previously relied on offline and walk-in sales traditionally are increasingly tapping online platforms to capture more demand. For instance, nine in 10 hawkers in Tanjong Pagar Plaza Market and Food Centre offer digital payments, and about half have joined online delivery and e-ordering platforms.
Katherine Tey, Secretary, Tanjong Pagar Plaza Market and Food Centre, said: We are grateful to have the support of our Grassroots Adviser Indranee Rajah and the grassroots organisations in Tanjong Pagar-Tiong Bahru during this challenging period. We are heartened by the care shown by our community leaders, who have been committed in helping us on our digitalisation journey. We have learnt how to build a digital presence by leveraging social media and managing group buys on messaging platforms. Going digital has boosted our sales and given us the confidence to keep our business going.
At today's launch of the 'Adopt-a-Hawker Centre' initiative, Minister in the Prime Minister's Office, Second Minister for Finance and National Development, Indranee Rajah, who is also the Grassroots Adviser to Tanjong Pagar GRC Grassroots Organisations (GROs); and Minister of State for Communications and Information and National Development, Tan Kiat How; joined DBS staff and grassroots volunteers from Tanjong Pagar-Tiong Bahru GROs to pack 600 Group Buy meal packs that were delivered to frontliners at Singapore General Hospital (SGH), Outram Community Hospital and workers at a SGH construction worksite.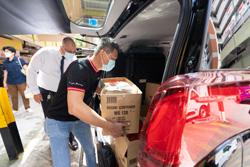 Ms Indranee said: "Unlike other neighbourhood hawker centres which serve mainly residential areas, Tanjong Pagar Plaza Market and Food Centre's clientele are mostly office workers in the nearby Tanjong Pagar business district. Hence, they were severely impacted by the Phase 2 (Heightened Alert) restrictions. Seeing this, our Tanjong Pagar-Tiong Bahru GROs rallied round to support the stallholders and increase their digital presence to boost their business. Working closely with the hawkers, we put together a menu which could be accessed and shared via social media and chat groups, put them on Facebook and TikTok, and introduced the Hawkers Direct GroupBuy initiative to allow for minimum da bao purchases without a high delivery cost. We are heartened that this ground-up initiative had received the support of DBS and IMDA. This will give them more publicity, encourage them to go digital while keeping costs low, and introduce more people to the great food at this Hawker Centre."
Since June, Tanjong Pagar-Tiong Bahru Grassroots Organisations have been organising group buys through Facebook to rally the community to help stallholders in Tanjong Pagar Plaza Market and Food Centre tide through the pandemic.
DBS has been championing and celebrating the hawker trade with its ongoing @SGHawkerCulture campaign, which includes offering DBS PayLah! discounts on food orders placed via online delivery partner WhyQ. From this month, the bank will be rolling out other initiatives, including:
Partnering WhyQ to drive sales of hawker food and reduce food waste by offering attractive DBS/POSB credit card and DBS PayLah! discounts on orders placed via the platform daily[1].
Co-organising the DBS PayLah! Hidden Gem Hawker Awards with Facebook Group Hawkers United to discover and celebrate the most popular hawker stalls as voted by the public.
Launching a rewards programme and virtual 'island-wide hawker hunt' in October to incentivise more people to use e-payments for their hawker meals.