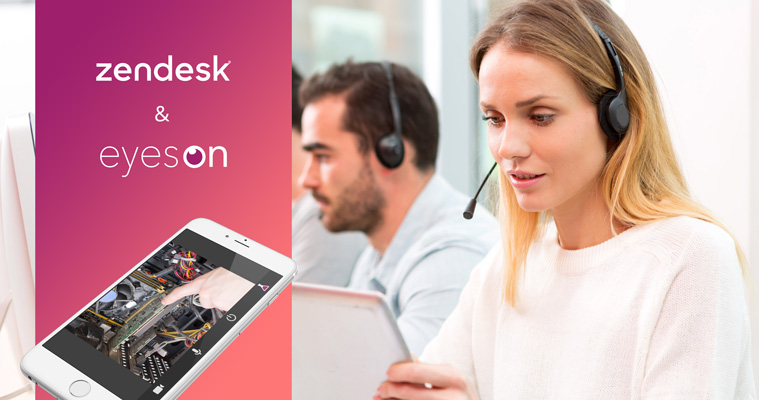 Eyeson serves the leading cloud-based customer service software provider Zendesk as integration. Specialized in group video calls and webinars, eyeson is a 100% cloud-based software as well.
When it comes to customer support calls, it is sometimes difficult for customers to describe certain problems. Missing words for some situations is truly human. Hence, it is much easier to visualize these problems via phone, tablet or laptop during a video call. In this way, the customer support agent can respond much better to the customers' issues. Since there is a better understanding of the issue, the problem-solving process is simply quicker.
You have to install the eyeson integration within the Zendesk marketplace. After this installation, you can simply start an eyeson video call with the click of a link. Easy, fast & efficient.
eyeson & Zendesk: Video Call Supported Customer Service
Easy handling
After eyeson has been installed via the Zendesk marketplace, it can be used straight away. The customer support agent can simply send an invitation to its customer within the ticket. It is designed to work as efficient as possible.
Quick Join
Since Zendesk users can integrate eyeson, their customers do not need an account or any installation. The only effort for them is to click on the provided link for accepting the video supported call. No additional installation needed.
Perfect mobile optimization
eyeson is available for mobile usage as well. Zendesk customers find the video call invitation in the ticket. Therefore, they are able to open it on their mobile phones in their browsers or via the eyeson Android or iOS app.
Screen & image sharing
When it comes to complicated issues, mere explanations are sometimes insufficient. Therefore, eyeson allows users to share their screen for showing solutions to key issues. Further, you can decide if you want to have specific content via images or PDFs.
Video recording
In case you might have to explain the same problem many times over and over, the recording feature is just perfect for you. Therefore, you can use eyeson as a standard video guidance and for educational reasons.
With the eyeson integration into Zendesk, the number of misunderstandings can be significantly reduced by visualizing certain problems & solutions.  Click here, to go to eyeson's Zendesk marketplace entry.